Our goal at Algem is to become Polkadot's go-to Liquidity Hub for your DeFi activities…
…and today, we are one step closer towards making that a reality…
Today, we're thrilled to announce the release of a NEW ALGEM FEATURE…
nASTR FARMING SECTION!
The nASTR Farming Section – which we previously referred to as nASTR Liquidity Hub – is a group of intermediate contracts that replicate our DeFi dApps partners' interface on Algem's app.
Why did we change the name from Adapter Contracts to nASTR Farming Section?
We felt the name "Adapter Contracts" didn't properly represent the intent of our new feature. We're building a liquidity hub – a platform – where you can find all your favorite DeFi dapps and connect to them seamlessly.
For all the users farming already with nASTR tokens on Sirius or Kagla Finance, you must stake your Gauge tokens in Algem's nASTR Farming to keep earning staking rewards.

IMPORTANT

!!! 👇
Dear Algy,

You'll have two weeks starting from the 11th of October to move your liquidity over to our new liquidty platform if you don't want to lose your future rewards.


Each user who moves their liquidity to the nASTR Farming during the first 5 days will receive 40 ALGM each, those who do so after the 5 days but before the end of the two weeks will receive 15 ALGM each!

ALGEM TEAM
What Are The Benefit Of nASTR Farming Section?
Flashloan protection via the buffered implementation: Several improbable scenarios exist when staking rewards can be boosted retroactively through the LP tokens. For example, a user can use a flash loan to claim the rewards and receive significantly more that way, returning the LP tokens at the end of the transaction. This risk will rise in the future when more Defi dApps propose flashloan services.
Protection from LP manipulations: Some bots could monitor the mempool and switch tokens between their accounts in an attempt to artificially increase their reward amount.
Improved user experience such as:

Users no longer need to visit multiple websites to add their tokens to an additional dApps;
Users require fewer actions for the whole process of depositing and withdrawals of tokens;
Users can read all of the balances in one place;
In the future, users can choose the DEX they want to interact with and see the statistics through Algem directly. –

Calculation: More precise reward calculation and higher platform security for users.
Security: Protection from the possibility of draining funds from or bankrupting the LP-provider contract.
Supporting more protocols: Not all dApp can support $nASTR for technical reasons. Among these are dApps such as AstridDAO and Arthswap – important for the Astar ecosystem.
Guide For Using nASTR Farming on Algem
Once you have staked your ASTR tokens on Algem and received your nASTR, you can choose one of the available protocols to use your tokens.
At the moment, the two dApps supported by the nASTR farming are Sirius Finance and Kagla Finance.
How To Provide Liquidity and Stake Liquidity Provider Tokens
Select the deposit option;
Enter the amount of nASTR and ASTR you want to supply;
Select the option to stake LP tokens automatically;
Confirm the action by clicking on "Deposit" and sign the transaction in your wallet.
Option: If you have already provided liquidity on an AMM or staked your LP tokens, you can still deposit your LP or gauge tokens on Algem farming.
Attention for Sirius and Kagla users!
To continue to receive farming reward please stake your Gauge tokens through the farming section. To do this please select "Add LP/Gauge" and stake your Gauge tokens.
How To Unstake LP (Liquidity Provider) Tokens and Withdraw Liquidity
Select the dApp in the farming section that you are using;
Click on the withdraw option;
Enter the amount of LP tokens you want to unstake;
Select the option to withdraw tokens automatically;
Confirm the action by clicking on "Unstake" and sign the transaction in your wallet.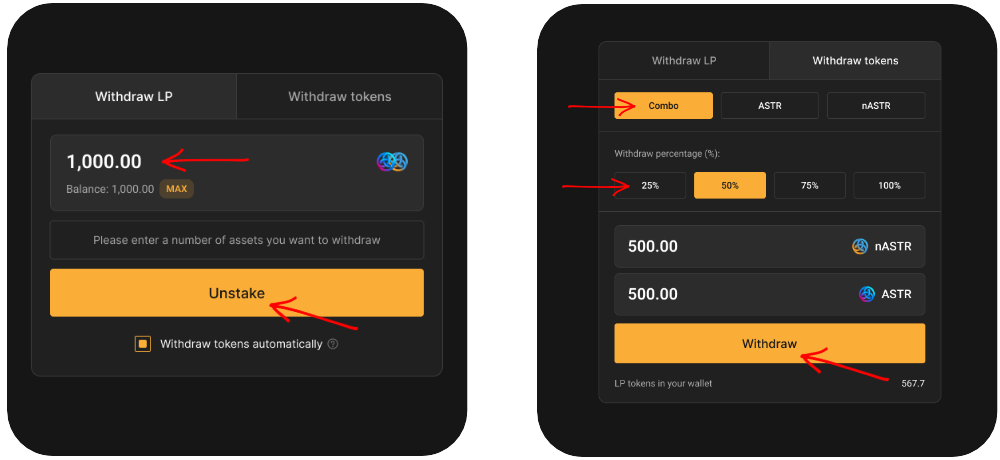 How To Claim Your Rewards From The nASTR Farming
Select the dApp in the farming section that you are using;
Click on the "Claim rewards" button and sign the transaction in your wallet;
Your rewards will be distributed directly into your wallet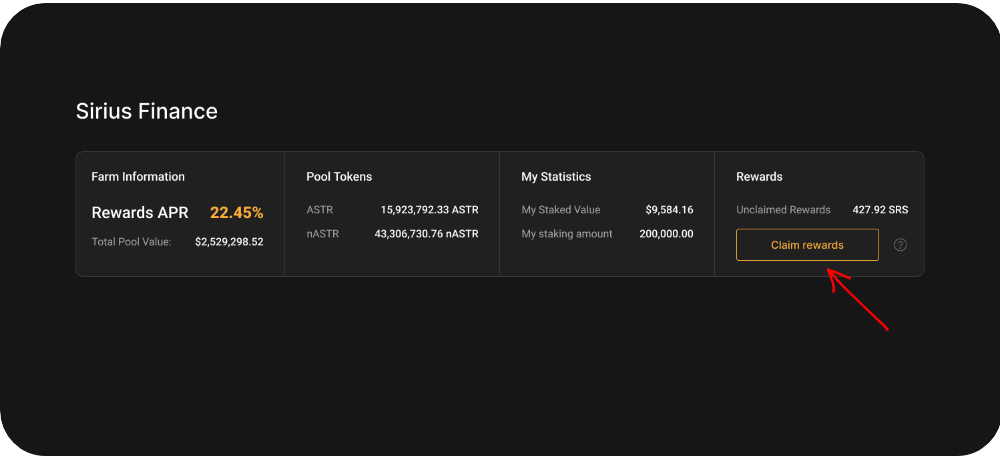 About Algem
Algem is a dApp built on Astar Network and offers two main features: liquid staking and liquid lending. As the name implies, these two solutions enable ASTR holders to remain liquid with their assets while putting them to work. In addition, the liquid staking and lending solutions allow users to accumulate staking rewards and increase their earnings using Algem's liquid nASTR tokens across Astar's Defi ecosystem. In doing so, Algem supports other Defi protocols by providing liquidity and creating a sustainable and cooperative ecosystem on Astar Network and Polkadot.
Join Our Growing Community!